Posts from —
November 2007
While most diners get excited about swanky "see-and-be-seen" fine dining digs with upmarket prices, but for me the most anticipated opening of 2007 has to be Beaver's – a thoroughly Texan concept from Monica Pope. I enjoy high wire concept restaurants as much as the next guy, but for the most part these places tend to feature poorly executed imitation of trends that played out in New York and Chicago several years ago. Results range from reasonably good to rather morbid.
In contrast, Monica Pope's food often has a local flavor and features the best elements of the regional cuisine. Cooking at t'afia places a strong focus on simple, but well executed techniques. The results are often inspired, bordering on spectacular.
Though not yet open, Beaver's appears to be her take on a modern Texas ice house; a sort of a southern version of a gastropub. The t'afia people I talked to promised a BBQ focused menu with plenty of items to amuse vegetarians, as well as several southern themed dishes turned out by a chef their hired from Benjy's (not sure if that's accurate). While this state is lousy with cowboy themed concepts, good and bad, there is nothing even remotely resembling a true to form Texas gastroicehouse. Until now.
Beaver's recently published a menu and it appears to be loaded with tasty bits to sample over several visits. I forced myself to go to the farmers' market t'afia hosts on Saturday mornings just to try the BBQ that will soon be sold at Beaver's and was not disappointed.
There are plenty of Texas joints with better BBQ credentials than a brand new restaurant owned by a James Beard award nominee, but this BBQ was some of the best I ever had. Not much for self control I ordered of almost everything they had, except for pollo pibil (there are limited to everything). Beef brisket had a respectable smoke ring and was extremely tender, without a hint of steam you often find in critic favorites like Thelma's. Pork ribs had a nice crust and just the right amount of chew.
The pork shoulder turned out to be the surprising all-star. States with lesser BBQ traditions douse this cut in mustard and vinegar to improve the flavor and texture, but this Texan version was absolutely perfect all on its own. Tender, smoky and loaded with unadulterated pig flavor. I ended up at Tacos-a-Go-Go to try their better than average barbacoa tacos, but found myself reaching into my BBQ plate instead. Eventually I gave up and studded my tacos with the pork shoulder, which, when combined with some tomatillo salsa, turned out to be a perfect combination.
Unable to finish a pound of meat by myself I chopped the leftover cue into a hash for breakfast the next day, which turned out nothing less than spectacular. Few things go better with eggs than a collection of charred smoky bits of brisket and ribs. I smell a start of a new weekend tradition. Beaver's on Saturday, BBQ hash for breakfast on Sunday.
One item I noticed on the menu is a starter I've had before at t'afia. Seems Monica Pope has been experimenting with human subjects with her Friday lunch menus. The fried peperoncini stuffed with cream cheese and smoked pork was a perfect flavor and texture combination. If this is a sign of things to come from Beaver's, sign me up as an instant fan.
November 15, 2007 2 Comments
Stranded in the house last weekend, after both of my cars were vandalized, I finally caught Herbie Hancock: Possibilities, a movie about a collaboration project between Hancock and a number of contemporary musicians. If you are unfamiliar with Hancock's work you owe it to yourself to watch this film. Similar to movies like Stanley Kubrick: A Life in Pictures and The Last Waltz, this is a unique chance to catch a rare glimpse of brilliant artists at work.
I have heard Possibilities (the album) before and did not find it terribly appealing. In fact many records Herbie Hancock put out over the course of his career are less than impressive. Hancock's brilliance is not in perfect spot-on consistency and execution, however. He has managed to generate a staggering amount of material over the years, some of it truly awful, some out of this world brilliant. Most important, it's always innovative and sometimes groundbreaking.
Best parts of the film are biographical. Rare footage from Hancock's twenties when he first joined the Miles Davis' 2nd quintet where he learned free form jazz expression. Hancock describing the effect Rockit (w/ Grandmaster D.ST) had on early b-boy, hip-hop and turntablism movements which was one of the first music videos I saw when I was living behind the iron curtain. Live appearance at Hiroshima and Nagasaki. Clips showing Hancock the technophile with the original Moog, ancient music synth/computer rig and the psychedelic Chameleon performance from the Headhunters years.
The parts involving Christina Aguelera, John Mayer, Paul Simon and Carlos Santana are much less interesting, but sessions with other musicians are decidedly better, like the jazz reworking of "Sister Moon" with Sting featuring Lionel Loueke, an amazing jazz guitarist I've not heard of before; the fusion of roots, jazz, funk and soul in the session with Johnny Lang and Joss Stone; Hancock making bleepy noises with Brian Eno; the stoned beyond belief Trey Anastasio from Phish and a great session with the "more talented than Damien Rice" Lisa Hannigan.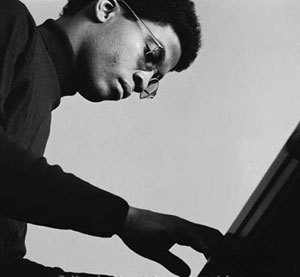 I am a long time Hancock fan and after watching Possibilities I am more impressed with him than ever. Hancock began his career as a musical prodigy, playing his first classical solo with Chicago Symphony when he was just 11, and over time became one of the more important artists of all time influencing a wildly varied range of musical genres, including jazz, progressive rock, funk, hip-hop and electronic music. In the movie, Hancock the person comes across, as artists rarely do, like a human being. Humble, intelligent, genuinely spiritual, entirely unaware of his own importance. Someone you actually want to know.
Did I see Gina Gershon playing jew's harp during the credits? Very odd.
November 2, 2007 No Comments